Rattan Firepit set luxury edition
RATTAN PREMIUM  ROUND DINING  SET WITH   GAS FIRE PIT 
2 of  The 6 Chairs Included Have A built In Recline Function
MADE FROM POLY WOVEN HIGH DENSITY POLYETHYLENE (HDPE) RESIN  WICKER THICK ROUND WEAVE 
 HIGH BACK CHAIRS WITH WINGS 
POWDER COATED ALUMINIUM FRAME 
LABORATORY TESTED TO WITHSTAND TEMPERATURES BETWEEN -20C TO 60C
UV RESISTANCE 
3 YEAR GUARANTEE 
FREE STANDING FULLY ASSEMBLED CHAIRS
 38mm Parasol Hole Built in Table And Lazy susan 
stainless steel gas fire pit built in 
AUTO IGNITION
SEASON PROOF WATER RESISTANT HIGH QUALITY FABRIC CUSHIONS 
FLOOR SPACE NEEDED  2.5M X 2.5M
We recommend using a 5kg (Propane) green gas bottle as this fits inside the table. Our firepit systems are CE Certified . our firepit systems are rated with 40,000 BTUs and provide a generous amount of heat.
stainless steel removable cover for fire pit when not in use included
please note gas not included
BACK AND BOTTOM CUSHIONS ARE INC
SIZES 
TABLE 150/150/72
CHAIRS 60/76/101
Elevate Your Outdoor Living with the Rattan Firepit Set – Luxury Edition
Experience the epitome of outdoor luxury with the Rattan Firepit Set – Luxury Edition, available exclusively at Chelsea Home and Leisure Ltd. This unique set combines style, comfort, and functionality to create an outdoor oasis that will impress and delight. With its exquisite design and premium features, the Rattan Firepit Set – Luxury Edition is a must-have for those seeking the ultimate outdoor experience.
Crafted with meticulous attention to detail, this set exudes sophistication and elegance. Combining the intricately woven rattan and the sleek lines of the aluminum frame creates a stunning visual appeal that will enhance any outdoor space. The luxurious cushions provide the perfect balance of support and softness, ensuring maximum comfort during leisure time.
The integrated fire pit is the centerpiece of this luxurious set. With just a flick of a switch, you can ignite a mesmerizing fire that adds warmth and charm to your outdoor gatherings. Gather around the fire pit with your loved ones, sharing stories and creating unforgettable memories that will last a lifetime. The firepit is designed with safety in mind, featuring a protective glass surround and an easy-to-use ignition system.
Durability is a crucial feature of the Rattan Firepit Set – Luxury Edition. The high-quality rattan weave is weather-resistant and UV-stabilized, ensuring it retains its beauty even in harsh outdoor conditions. The sturdy aluminum frame provides stability and support, allowing you to enjoy this set for years. Whether you're hosting a garden party or simply relaxing with a book, this set is built to withstand the test of time.
Maintenance is made easy with the Rattan Firepit Set – Luxury Edition.
The removable cushion covers can be conveniently washed, keeping them fresh and clean. The rattan weave requires minimal upkeep and can be easily wiped down with a damp cloth. Spend more time enjoying your outdoor space and less time on maintenance with this hassle-free set.
At Chelsea Home and Leisure Ltd, we offer exceptional outdoor furniture that combines style and functionality. With the Rattan Firepit Set – Luxury Edition, you can create a remarkable outdoor living space that reflects your style and enhances your lifestyle.
Please browse our website Www.chelseahomeandleisureltd.co.uk, and explore our extensive collection of premium outdoor rattan and teak furniture to complete your vision.
Create a captivating ambience, enjoy unparalleled comfort, and make lasting memories with your loved ones. Take advantage of the opportunity to transform your outdoor space into a haven of relaxation and luxury. Visit Www.chelseahomeandleisureltd.co.uk and make this unique set yours today.
DELIVERY: is approximately 10 working days
"What areas do we deliver to?
We do deliver to all the ares on the map  mainland addresses in England, Wales & Southern Scotland. Are free delivery As indicated in red on the delivery zone map. We do deliver to North Scotland, northern Ireland,  and ALL off-shore islands LIKE:  ISLE OF WIGHT, ISLE OF MAN, ect at a flat rate.
"This is the list of postcodes in grey that are included in our Delivery Zones….. 
DELIVERY MAP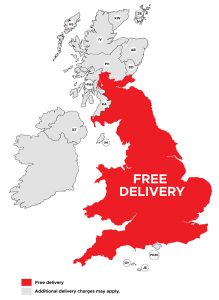 Frequently Asked Delivery Questions
"Do you deliver outside of the UK?
Sorry we do not deliver overseas at the moment ONLY SOUTHERN IRELAND ,
"Is there import tax from UK to southern Ireland?
yes as Southern Ireland Is Part Of The Eu This means you THE BUYER will be responsible to pay customs duty on items bought online in the UK and delivered to southern Ireland. You may have to pay VAT please Find out what VAT and import charges you will have to pay before ordering from a this UK site.
"Can I arrange my own shipping ?
If you want to arrange your own shipping that's fine if you require any advice on shipping we will do our best to advise you.
"Can I collect my order my self ?
Yes you can collect your order from our warehouse . If wanting to collect your order then please Email us to arrange the collection date and time so we can have your order ready for you The person that placed the order must collect the order and provide identification.
"Can I send a courier to collect my order?
We always prefer to deliver our furniture ourselves that way we can guarantee a safe delivery However if you want to send an external courier you must pay for your order first
Then please Email us to arrange the collection date and time
"Can you unbox, assemble my furniture and take away the packaging ?
No due to health and safety /covid19 we no longer offer these services.