TEAK GARDEN FURNITURE RESTORATION
 KIT
Our TEAK Garden Furniture Restoration Kit includes all the product, accessories and instructions required to help you clean and restore all your garden furniture.
The Kit contains:
Teak Cleaner 500ml  (concentrated formula makes 3 litres)
 500ml Teak Brightener (concentrated formula makes 1 litre)
 Teak Oil 500ml
Scrubbing Brush
Pack of Lint Free Cloths
Bucket
"Restoring your TEAK garden furniture is a three part process that will deliver great results; the kit will remove grey and weathered wood restoring the original honey brown colour, kill mould and mildew, and protect the surface from future weathering.
1. Dirt, grime and some discolouration is removed using our Teak Cleaner





2. The colour is further enhanced with the grey/weathered look restored back to a lovely honey colour using the Teak Brightener.





3.The Teak Oil is then applied to help protect the wood from discolouration, drying out and cracking.
This Restoration Kit is Brilliant for Teak garden furniture but it can also be used on all other types of outdoor wood garden furniture as well.
the Garden Furniture Restoration Kits Coverage and Shelf Life
The Cleaner and Brightener will each clean 72m2 and the Oil will cover 10m2. To maintain your wood after the initial application you may need to purchase additional Oil.  As a general guide, with the product in the kit, you can thoroughly clean, brighten and oil a garden table and four chairs twice, with plenty of product remaining to tackle future jobs.
Remove dirt, grease and grime from all teak furniture
Restore, enhance and revive the original colour
Maintains and protects
Restores grey and weathered garden furniture
Kills mould and mildew
"FREE UK SHIPPING"
Preparation
Remove any loose dirt and mud with a brush first.
Cleaning Garden Furniture
The first step is to clean the garden furniture to remove any dirt, grime, mould and mildew from the surface. As you clean the garden furniture you'll also notice the original honey colour of the wood starting to be restored.
Take the Teak Cleaner and shake the bottle well before use.
Mix the cleaner into a bucket of warm water at a ratio of 1:5 (1 part Teak Cleaner to 5 parts warm water). Dip a Scrubbing Brush into the mixture and scrub the surface to loosen and dirt and grime. Wipe the wood down using a clean, lint-free cloth.
Rinse the wood with clean water to remove any excess Teak Cleaner. Allow to dry.
A green scouring pad can be used with the cleaning solution to get into hard to reach areas. Fine sandpaper (P320) can be used  to rub the surface down (after it has been cleaned and dried) if the furniture feels rough. This will create a lovely smooth surface and help with oil absorption later on.
Brightening Garden Furniture
Brightening the furniture will further enhance the natural colour of the wood and kill off any remaining mould spores that survived cleaning!
Take the Teak Brightener and shake the bottle well before use. Put on the protective gloves.
Mix the Teak Brightener into a bucket of water at a ratio of 1:1. Apply to a clean, lint-free cloth and rub into the garden furniture following the direction of the grain. Leave for a few minutes and then rinse down with clean water.
As you apply the product you will notice more of the original garden furniture colour reappearing in the wood.
Oiling Garden Furniture
Take the Teak Oil and shake the bottle well before use. Ensure the garden furniture is clean and dry.
Apply the Teak Oil liberally to a lint-free cloth and rub into the garden furniture following the direction of the grain. Leave for a few minutes and then wipe off any excess. Leave the Oil to thoroughly soak in and dry for between 4-6 hours.
For best results and to help make future maintenance easier, you should apply three coats of oil to your garden furniture. Ensure the last has thoroughly dried before applying the next coat.
Maintenance
You should clean and reoil garden furniture once a year. You shouldn't need to use the Brightener every time but you can choose to do so if you think the furniture has weathered badly, or if you don't get round to applying the oil every year.
DELIVERY: is approximately 10 working days
"What areas do we deliver to?
We do deliver to all the ares on the map  mainland addresses in England, Wales & Southern Scotland. Are free delivery As indicated in red on the delivery zone map. We do deliver to North Scotland, northern Ireland,  and ALL off-shore islands LIKE:  ISLE OF WIGHT, ISLE OF MAN, ect at a flat rate.
"This is the list of postcodes in grey that are included in our Delivery Zones….. 
DELIVERY MAP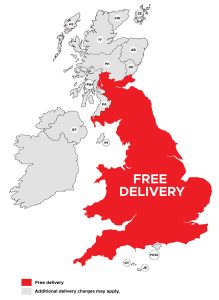 Frequently Asked Delivery Questions
"Do you deliver outside of the UK?
Sorry we do not deliver overseas at the moment ONLY SOUTHERN IRELAND ,
"Is there import tax from UK to southern Ireland?
yes as Southern Ireland Is Part Of The Eu This means you THE BUYER will be responsible to pay customs duty on items bought online in the UK and delivered to southern Ireland. You may have to pay VAT please Find out what VAT and import charges you will have to pay before ordering from a this UK site.
"Can I arrange my own shipping ?
If you want to arrange your own shipping that's fine if you require any advice on shipping we will do our best to advise you.
"Can I collect my order my self ?
Yes you can collect your order from our warehouse . If wanting to collect your order then please Email us to arrange the collection date and time so we can have your order ready for you The person that placed the order must collect the order and provide identification.
"Can I send a courier to collect my order?
We always prefer to deliver our furniture ourselves that way we can guarantee a safe delivery However if you want to send an external courier you must pay for your order first
Then please Email us to arrange the collection date and time
"Can you unbox, assemble my furniture and take away the packaging ?
No due to health and safety /covid19 we no longer offer these services.